Financial Modeling for Mining


Learn Project Finance Modeling for Natural Resource Projects
Financial Modeling for Mining course will give you the skills to develop and analyze project finance models for mining projects. 

Over 14 Hours
Course Content
Financial Modeling for Mining Course Objective
Financial Modeling for Mining course will give you the skills to develop and analyze project finance models for mining projects. The course covers essential topics including modeling mining operations, debt sizing and funding, and investment returns analysis, and will provide you with a robust financial modeling skillset for analysis of mining projects in the most sophisticated environments.

In an online environment you will go from a blank Excel workbook to a financial model suitable for investment analysis, debt structuring and operational scenario evaluation. This course will provide step-by-step instructions on how to build financial model suitable for analyzing mining projects.

By the end of this course, you will be able to build complex, real-life project finance models for mining projects.
What This Course is About?
Project finance models for mining are used to assess the risk-reward of lending to and investing in mining projects. The project's debt capacity, investment returns and financial feasibility depend on expected future cash flows generated by the mining project itself and a financial model is built to analyze this.

In the Financial Modeling for Mining course, we will model complex mining project finance transaction from scratch in excel.
You will learn about:
How to build a project finance model from scratch in excel for mining projects;
Learn how mining projects get developed and financed;
How to create best practice macro's and Excel VBA codes to break circularities;
Learn how to size debt based on multiple covenants for mining projects;
How to model Debt Service Reserve, Maintenance Reserve, Working Capital and Asset Retirement Obligation Reserve Accounts;
How to model mini-perm debt structure with a refinancing facility;
How to account for financing fees during construction and operation;
How to incorporate tax and accounting of mining operations into the financial model (asset retirement obligation, the unit of production depreciation method, NOL carry forward expiration etc.);
Advanced project finance modeling concepts and accounting (flexible timing, mini-perm debt, refinancing, cash sweep, equity bridge loan);
This is the same comprehensive financial training used to prepare analysts and managers at top financial institutions and infrastructure funds.
How Does It Work?
The course length is over 14 hours.

First, we will review the basics of mining projects development, so we understand all essential components of mining operations and project finance transactions in the context of mining industry.

Then, in the second part, we will review financial modeling methods and excel functions that we will use often in this course, to improve our productivity in Excel.

We will begin financial modeling in the third part, where we will build a financial model for open-pit gold project.

Is This Course For You?
Yes, if you need to build, review or analyse project finance models for mining projects.

Typical students include analysts, managers, senior managers, associate directors, financial advisors, financiers and CFOs from project companies, investment banks, private equity and infrastructure funds.
Course Prerequisites
You will need previous exposure to Excel in a financial modelling context and basic knowledge of investment concepts such as NPV and IRR.
Frequently Asked Questions
Complete the Course and Get Certified!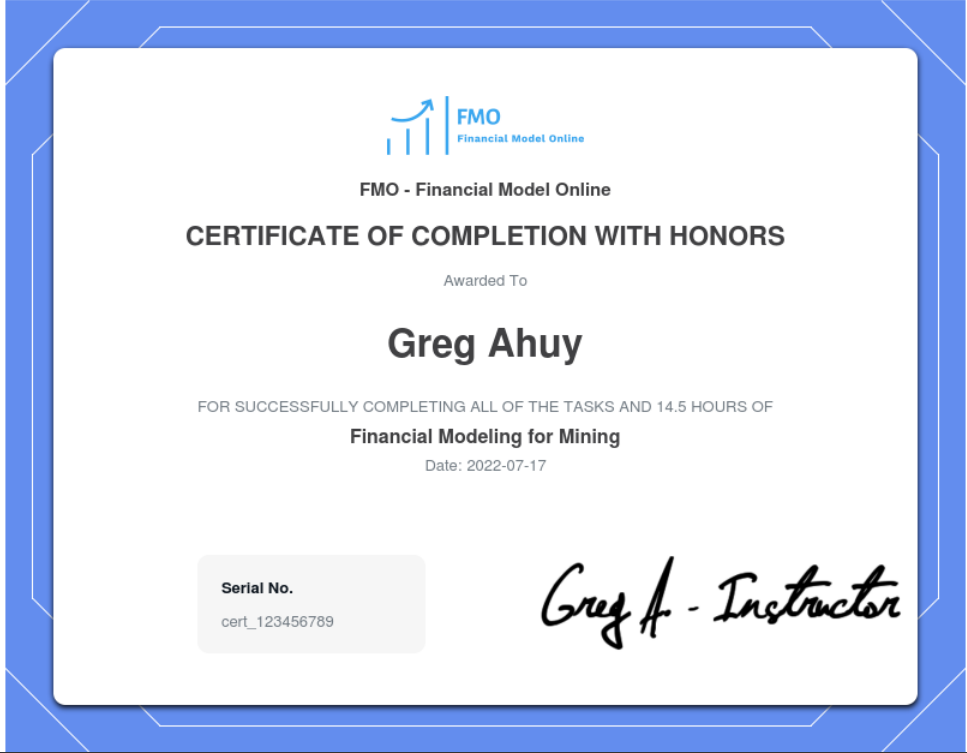 Certificate of Completion
Upon completion of the course, you will be awarded a certificate of completion. And, if you complete all of the tasks, a Certificate of Completion with Honors will be issued.

Check Out Our Lessons Before You Enroll:
Check your inbox to confirm your subscription
Project Finance Modeling Courses offered by FMO: