<!
Project Finance Modeling for Renewable Energy
Create Financial Models for Wind and Solar
Create Project Finance Model
Learn how to create project finance model for renewable energy from scratch
Size Project Finance Debt
Learn how to correctly size project finance loan based on the P50 and P99 generation scenarios
Model Sponsor's Equity Return
Model sponsor's blended equity IRR for wind and solar projects
Over 14 Hours
Course Content
Project Finance Modeling for Renewable Energy Course Objective
Project Finance Modeling for Renewable Energy course will give you the skills to develop and analyze project finance models for wind and solar projects. The course covers essential topics including debt sizing and funding, wind and solar project operations, and investment returns, and will provide you with a robust financial modeling skillset for analysis of renewable projects in the most sophisticated environments.

In an online environment you will go from a blank Excel workbook to a financial model suitable for investment analysis, debt structuring and operational scenario evaluation. This course will provide step-by-step instructions on how to build financial model suitable for analyzing wind and solar projects.

By this end of this course, you will be able to build complex, real-life project finance models for wind and solar projects.
What This Course is About?
Project finance models for renewable energy are used to assess the risk-reward of lending to and investing in renewable projects (wind and solar). The project's debt capacity, investment returns and financial feasibility depend on expected future cash flows generated by the renewable energy project itself and a financial model is built to analyze this.

In the Project Finance Modeling for Renewable Energy course we will model complex wind and solar project finance transactions from scratch in excel.
You will learn about:
How to build a project finance model from scratch in excel for wind and solar projects;
Learn how renewable energy projects get developed and financed;
How to create best practice macro's and Excel VBA codes to break circularities;
Learn how to size debt based on multiple covenants for wind and solar projects;
How to model Debt Service Reserve Account;
How to model unlevered project returns and blended equity returns;
Learn to integrate multiple probability exceedance generation profiles (P50, P99) into the financial model;
Learn basics of GP/LP flip structures and tax equity for project financing;
Gain insights into financial model development process, step-by-step – for a renewable energy model;
Optimize the model to achieve the requirements of lenders and investors.
This is the same comprehensive financial training used to prepare analysts and managers at top financial institutions and infrastructure funds.
How Does It Work?
The course length is over 14 hours.

First, we will review the basics of wind and solar projects development, so we understand all essential components of project finance transactions in the context of renewable energy.

Then, in the second part, we will review financial modeling methods and excel functions that we will use often in this course, to improve our productivity in excel.

We will begin financial modeling in the third part, where we will build a financial model for wind and solar projects for the case when SPV pays taxes.

And, finally, In the fourth part, we will review the peculiarities of the US renewable projects and build a financial model that takes into account the tax credits available in the US, and introduce to the new source of financing called tax equity.
Is This Course For You?
Yes, if you need to build, review or analyse project finance models for wind and solar projects.

Typical students include analysts, managers, senior managers, associate directors, financial advisors, financiers and CFOs from project companies, investment banks, private equity and infrastructure funds.
Course Prerequisites
You will need previous exposure to Excel in a financial modelling context and basic knowledge of investment concepts such as NPV and cash flows.
Frequently Asked Questions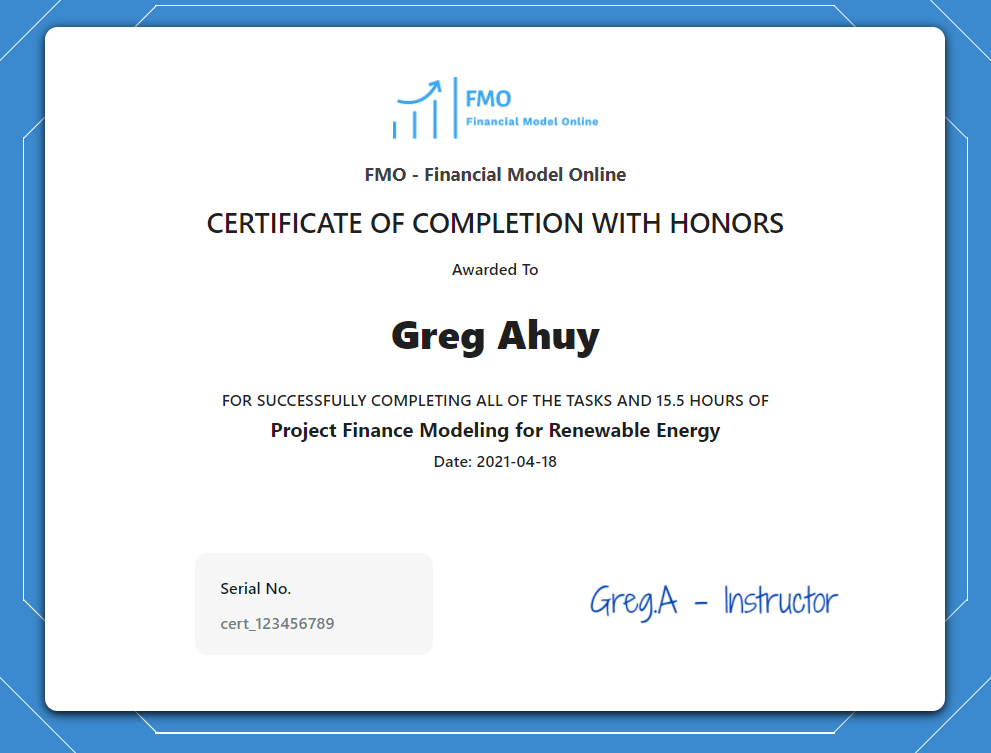 Certificate of Completion
Upon completion of the course, you will be awarded a certificate of completion. And, if you complete all of the tasks, a Certificate of Completion with Honors will be issued.
If You Are Looking For Advanced Financial Modeling for Renewable Energy
About us
FMO specializes in developing your financial modeling skills in project finance, investment banking, asset and wealth management. While we are a young firm, the team has decades of experience of complex financial transaction modelling.

The course is taught by Gregory Ahuy. Gregory started his career in investment banking as M&A analyst in London at Renaissance Capital - leading Russian investment banking firm https://www.rencap.com/. He was later relocated to Moscow to help with some of the biggest Russian M&A deals in mining and infrastructure sectors. Gregory continued his career at InfraRed Capital Partners, one of the largest infrastructure funds, focused on sourcing and executing greenfield and brownfield infrastructure projects in Eastern Europe. Later, Mr. Ahuy joined Eneco, one of the largest energy companies in the Netherlands where he led several renewable energy projects.
If you have any questions, please send us an email: [email protected]